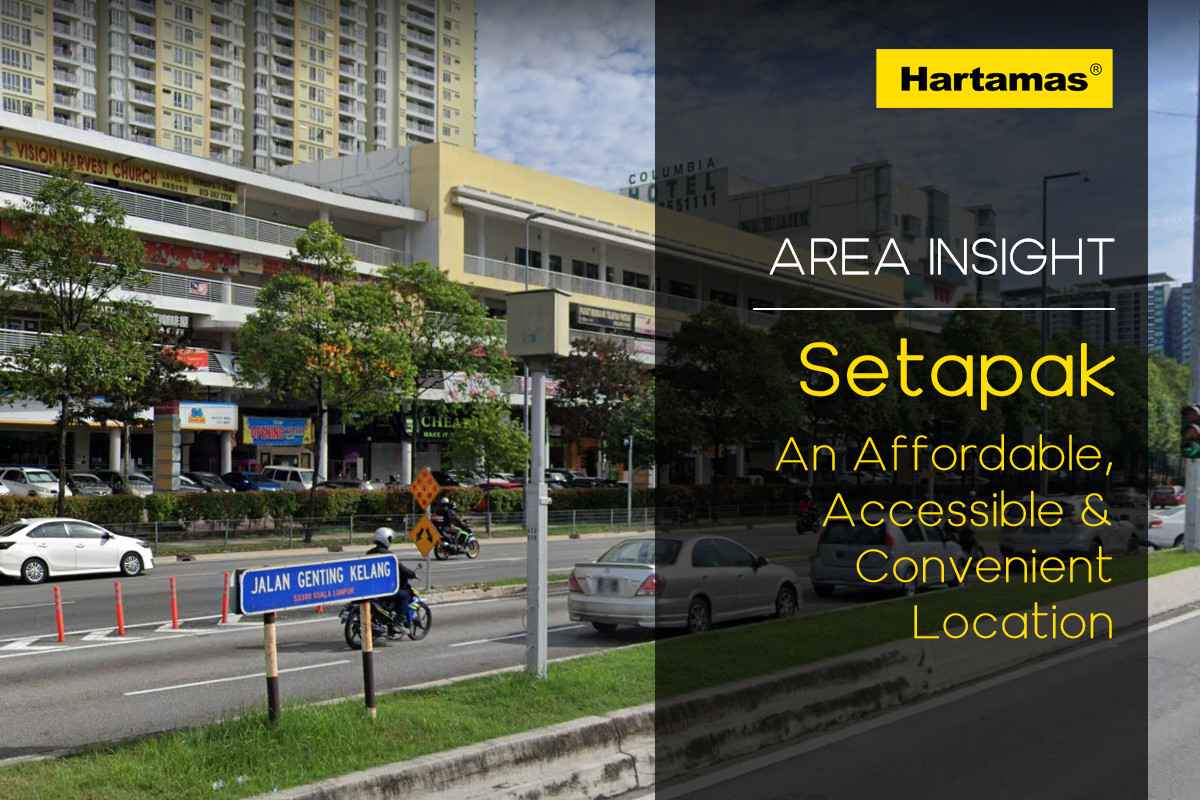 [Area Insight] Setapak – An Affordable, Accessible And Convenient Location
Formerly a tin-mining and rubber estate, Setapak is a suburb located in the city of Kuala Lumpur. Covering the regions of Setiawangsa, Taman Melawati, and Wangsa Maju, the name was derived from a Malay word that means 'one step'.
The area is easily accessible with public transportations such as bus services as well as the Kelana Jaya LRT line at stations namely Sri Rampai, Wangsa Maju, Taman Melati and Gombak. For those who drive, the area is well-served with major roads such as Jalan Genting Kelang, Kuala Lumpur Middle Ring Road 2, Karak Expressway, and the Duta-Ulu Kelang Expressway (DUKE) highway.
Here, find malls such as the Melawati Mall, Setapak Central Mall (previously known as KL Festival City) and Wangsa Walk Mall to serve your daily needs. As for parents, there are plenty of established schools in the vicinity including the Chong Hwa Primary School, Marian Convent Primary School, Air Panas Girls School, Setapak High School, Wesley Methodist International College and Tunku Abdul Rahman University College (TAR UC). For medical facilities, you will find the Columbia Asia Hospital Setapak, KPJ Tawakkal Specialist Hospital and Institute Jantung Negara ready to serve all various medical specialties and needs.
Setapak is a food heaven as well. From local cuisines to dessert eateries, one will be spoiled with the many different choices of food available. For a start, Kelate Kitchen located at Plaza Prima Setapak serves some pretty sinful volcanic Teh Tarik and Nasi Kukus (steamed rice with spiced fried chicken drenched with flavourful sauce) which will leave you in a food coma.
If you are into clay pot chicken rice, Wei Ji which is located at Jalan Mawar, Taman P Ramlee will leave you craving for more. You have to wait for your food to arrive though, because everything is made fresh when you order them. Add in a piece of salted fish, and you are in clay pot chicken rice heaven.
For supper, remember to make a pit stop at Burger Kaw Kaw to satisfy your late-night burger cravings. Expect the price to be slightly on the higher side, but it is worth it when you see the portion served. Only open from 6pm till 2am, leave some space in your stomach after dinner, it is worth it.
Living life to the fullest at d'Brightton
d'Brightton is one of the latest residential projects in the area comprising condominium (720 units), 3-storey villas (23 units) and 4-storey villas (23 units). Sitting on 7.66 acres of land, the development comes with plenty of facilities including the swimming pool, terrace garden, urban camping, resting pavilion and so much more.
The condominium unit built-ups range from 1,044 sq ft to 1,324 sq ft while the penthouse units have built-up of 2,400 + 355 sq ft and 2,400 + 398 sq ft. As for the 3-storey villas on the podium, built-up for the units is 2,927 sq ft while the 4-storey villas have built-ups of 3,756 sq ft.
With such a diverse range of built-ups, the development is suitable for first-time homebuyers, young families and even multi-generational families who want to live in a secured and comfortable environment. Due to the maturity of the Setapak area, not many new developments are sprouting in the area, making d'Brightton an excellent choice for investors and owner-occupiers.
The population in Setapak has increased tremendously in recent years, as more and more condominiums and commercial buildings are being established in the vicinity. Because of its proximity to university and college students mainly from the Tunku Abdul Rahman University College, the area also commands a good rental demand ranging from 4-5% in rental yield. The only downside would be the traffic congestion in the area due to the population, hence an improvement to the road and traffic system would be helpful. According to data from various property listing websites, the median sale price at Setapak is RM477,500, making the area an ideal area for first time home buyers, upgraders, and even downsizers looking for a place to stay surrounded by matured amenities and facilities for their everyday needs without burning a hole in their pocket.
The development is developed by GSD Group, an emerging property developer with a stellar track record of prestigious developments in Northern Malaysia. Guided by a dynamic team of experienced professionals, GSD Group constantly questions and challenges the norms and standards of the industry to add greater value for property buyers. This philosophy is one of the core catalysts behind many of GSD Group's successful project launches.
GSD Group's recent project highlights include Summerton in Bayan Indah, Skycube Residence, Gardens Ville and Sierra Residences in Sungai Ara.
When buying a new property, make sure the development is built by a reputable developer to ensure minimum hiccups in delivery time as well as to ensure that the quality of the development is up to par. Also make sure you engage with an established and registered real estate company such as Hartamas Real Estate who is able to guide you on any queries and to ensure that you make the right investment choice.

How much housing loan you can get?

How much is your property worth?

Interested in new launch property?

Looking for property for sale or rent?
Subscribe to our email newsletter today to receive updates on the latest news, property guides, new launches, featured secondary market properties and special offers.​